We celebrated your achievements, commemorated your successes, and looked to the future at George Mason University's winter graduation events, December 14-16, 2021.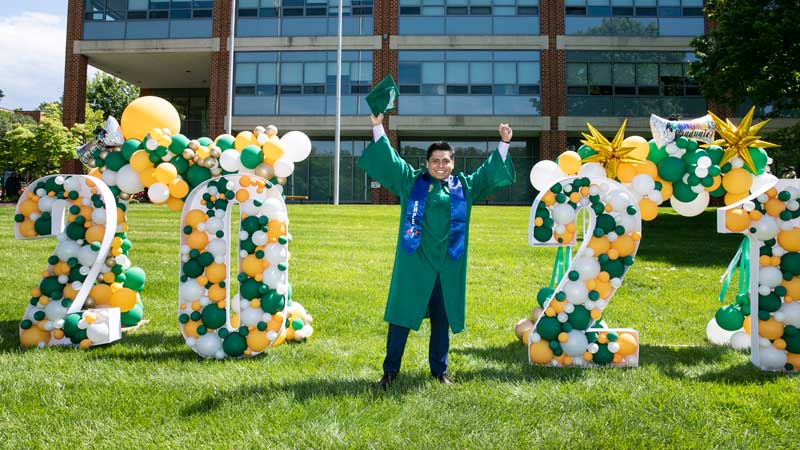 Graduation Speaker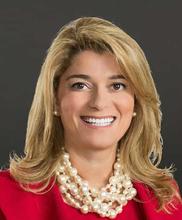 Shaza Andersen, BA Area Studies '89, serves as the founder and chief executive officer (CEO) of Trustar Bank, the first Virginia-based bank to
be chartered in more than a decade. Andersen is recognized by American Banker as one of the Top 25 Women to Watch and twice named a Top Banker by SmartCEO magazine.
Make a Memory with Commemorative Program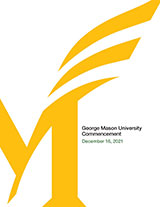 Get a copy of the program for Winter Graduation 2021 (PDF). It contains:
A letter from Mason President Gregory Washington.
A profile of commencement speaker Shaza Andersen.
Highlights of Mason's history.
A list of graduates.
Option 1:
---
Patriot Procession:
Location: Eagle Bank Arena
Dates: Appointment times available December 14 and 15th
Number of guests/graduate: Unlimited
Give yourself, your friends, and your family the time to enjoy this once-in-a-lifetime event.The Patriot Procession is a unique and flexible opportunity for graduates and their guests to celebrate this tremendous achievement together in a very personal way. In this format, families and guests accompany their graduate, and receive a front-row view of them crossing the stage. 
Graduates who participate in the Patriot Procession will schedule a time on December 14th or 15th to process onto the EagleBank Arena floor and up to the stage to pose for professional photographs. Friends and family may then join you for a group photo. Following the photography session, your are welcomed to walk through EagleBank Arena concourse at your own pace, where DIY photo opportunities are available.
The Patriot Procession does not include a formal ceremony and regalia is recommended for photography, but not required.
Mason's formal Winter Graduation Ceremonies will include speakers and musical performances honoring the graduates. All graduates will have their names called as they process across the stage, and are professionally photographed commemorating the occasion.
The ceremonies are held in two sessions on December 16, 2021, and graduates attend the ceremony corresponding to their school or college.
At either ceremony, all attendees commit to stay for the entire program which concludes in approximately 90 minutes to 2 hours.
Regalia is required for all graduates.
Ceremony Sections and Times:
---
CHSS / SCHAR / CARTER / CVPA / LAW
-- Bachelors and Masters only --
Location: Eagle Bank Arena
Date: December 16, 2021
Time: 10 a.m.
Number of guests/graduate: 10
BUS / CEC / CHHS / CEHD / COS
-- Bachelors and Masters only --
Location: Eagle Bank Arena
Date: December 16, 2021
Time: 2 p.m.
Number of guests/graduate: 10
Doctoral Ceremony
Your years of dedication, sacrifice, research, writing, editing, submitting, revising, and submitting again culminate on this day when you don your doctoral regalia to be recognized for your stupendous accomplishments.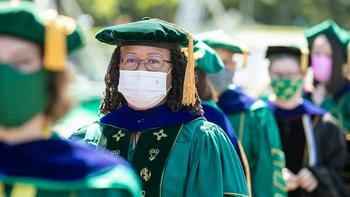 George Mason University will honor our 2021 Doctoral graduates in a conferral ceremony hosted in the Concert Hall at the Center for the Arts at on December 16, 2021 at 4 p.m.
Tickets for guests will be required.
An email was sent to all Summer and Winter Doctoral candidates with information on registration and tickets. If you did not receive it, please email Heather Moss in University Events directly.